Company Organization Chart
Need to create an organizational chart for your company? Have you considered using Excel instead of PowerPoint or some other organizational flow chart software? Read through to the end of this page to see why you might want to use a spreadsheet to create your company organization chart.
Company Organization structure
This template uses basic shape objects and lines to create an org chart. To add photos, delete the placeholder image and go to Insert > Pictures, then resize and crop the image as needed. The template contains an additional worksheet without placeholders for photos.
Organization chart example
Update and customize this template using the Excel SmartArt feature. Select the chart then go to the SmartArt Tools tab to edit the Design and Formatting. To add photos, click on the placeholder image icons and the Insert Pictures window will open up automatically. Then choose the image you want to use.
This template uses simple shape objects to show the organizational structure of a department consisting of a manager, assistants, team leaders, and team members. Lines are not always needed, especially if the structure is clear from the positioning of the roles within the chart.
Matrix organizational structure
A matrix organizational structure attempts to combine both vertical and horizontal structure and results in workers reporting to more than one manager. For example, one manager might be in charge of many engineers, but those engineers may work on different projects and therefore report to their product managers as well.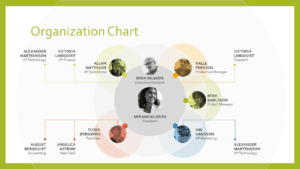 Hierarchical org structure
Functional org structure
Horizontal or flat org structure
Divisional org structures (market-based, product-based, geographic)
Matrix org structure
Team-based org structure
Network org structure
The typical org chart looks like a pyramid, your C-level executives at the top with lines stretching down to middle management and finally staff-level employees.
But not every company functions best with a hierarchical organizational structure. Many types of organizational charts exist because many types of organizational structures exist.